Onestop hassle free solution to
scrap your car
Get a Quote for your Car/Motorcycle
{{showMsg}}
Selling your scrap car with us is easy
1
Share Vehicle Details
Fill up the form, Get a quote for your car, we will revert back.
2
Get an Offer Price
MSTI will share the price with you.
3
Schedule Pickup
We will pickup from your location.
4
Get Paid
Payment is made after receipt of vehicle at the scrapping facility.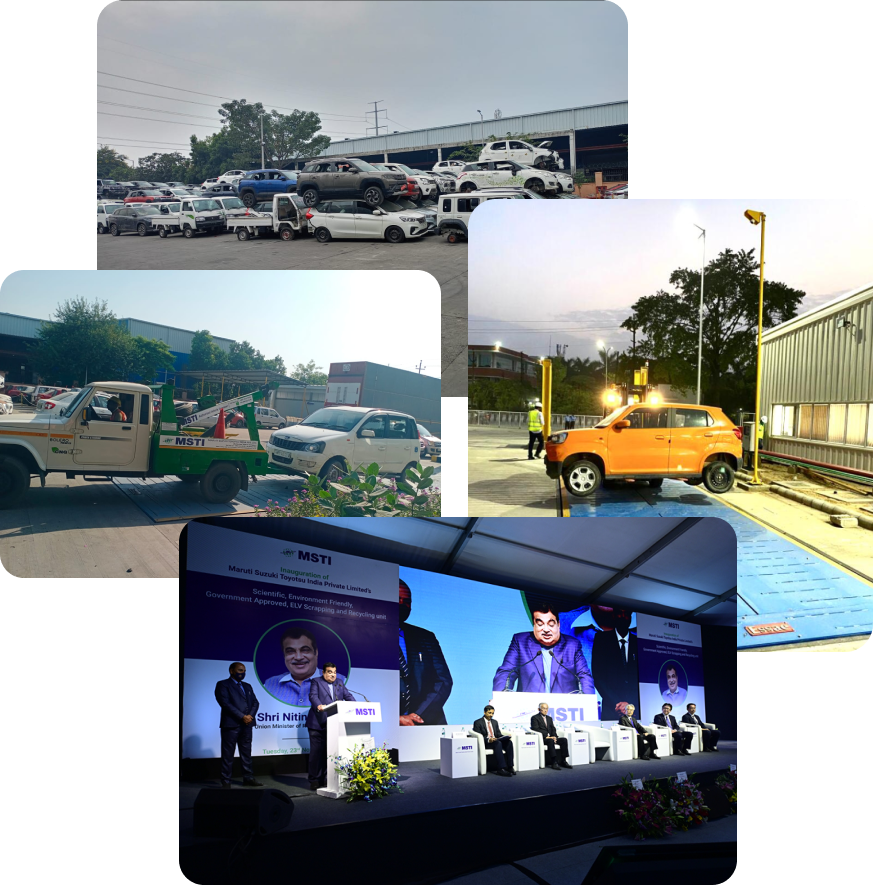 Why recycle your car with us
MSTI is a joint venture between Maruti Suzuki India Ltd and Toyota Tsusho and has set up its vehicle dismantling and recycling unit in Noida, Uttar Pradesh.
MSTI aims to promote recycling and support in resource optimization and conservation while using environment friendly systems and processes. Scrapping of older vehicles in a scientific and environment friendly manner will help to reduce pollution and also make the roads safer
We're the government authorized scrapper.
Destruction certficiate will be mailed after scrapping of vehicle.
Simple and convenient way to dispose of your car.
How We treat ELVs
(End-of-Life Vehicles)
VEHICLE COLLECTION

On request ELvs are collected from our customer's house and brought to our scrapping facility in Noida, towing car is used for towing vehicles which cannot be driven by own power.
DEPOLLUTION

After removal of battery, engine oil, transmission oil, brake oil, coolant is drained with zero waste AC gas is also recovered from the vehicle without any discharge to the atmosphere.
DISMANTLING

During dismantling all parts except body shell are removed - engine, transmission, all body parts, Panel, plastic components, glasses suspension parts, muffler etc. The Chassis Number is cut and preserved as per the Government guidelines.
EXTRACTION OF RECYCLED MATERIAL

Materials are segregated into ferrous, non ferrous, plastic and disposed to Authorized recyclers.